VetCare is always looking ahead. We can't predict the future, but we keep close tabs on what's around the corner for the veterinary industry. This includes industry standards, medical innovations, and the flux of talent set to graduate soon and enter the workforce. We're always here to help and respond to the needs of the community, and that includes demystifying the real world for veterinary students ready to embark on their next steps.
VetCare recently hosted a laid-back Q&A with UCVM students at the University of Calgary. In-between nibbles and drinks, Regional Manager Jolene Baron and Dr. Yvonne Stapanov-Kearney spoke about our people-first culture and the ever-evolving industry. They were also on hand to respond, explain and solve all queries the industrious 1st, 2nd, and 3rd-year veterinary students unleashed: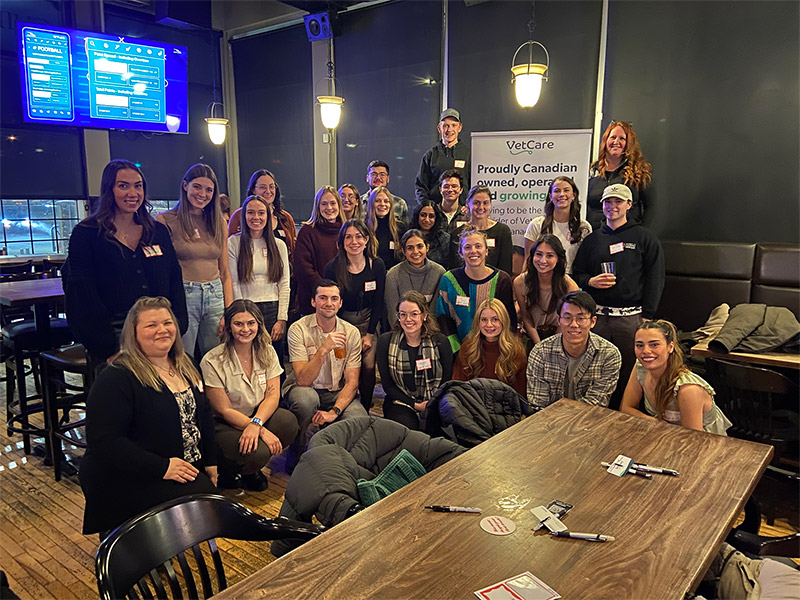 What summer opportunities are available with VetCare, they asked.
VetCare provides 20 veterinary student summer jobs: 10 for DVMs and 10 for RVTs through an internship program that focuses on building community and substantive feedback. Many clinics and mentors participate, giving back to the profession they love. VetCare's Medical Director, Dr. Albert Wimmers, is working on clinical rotations so that we can support the education of students to an even greater degree.
There were curiosities about the clinic culture at VetCare…
VetCare's practices are smaller, we're all a part of a bigger community. This means our staff have a strong bond with their team as well as opportunities to develop their careers through our mentorship program and continued education allowance. Our team members are at the very heart of VetCare. In our practices, we always look at ways to provide support from multiple directions, whether that's equipment needs, effective scheduling, or essential mental health support.
And, associate packages?
VetCare strives to offer the most generous packages to students in both compensation and mentorship.
We look forward to hosting more student Q&As in the future. The energy and enthusiasm brewing in the room has us even more excited for the future of veterinary medicine.